WOOD DECKING
In Westchester County, wood decking is still very popular. Most homeowners looking to add a wood deck to their home are going to examine the cost and benefits of the three most common wood decking choices on the market today: pressure-treated wood, cedar and mahogany. Each type of wood has benefits and drawbacks for homeowners to consider.
Pressure-treated wood can be made of various types of wood species. Redwood and cedar are both naturally insect- and rot-resistant. They have a naturally handsome look, but they do come with their own inherent issues.
CONTACT US TODAY FOR A FREE DECK CONSULTATION AND QUOTE
PRESSURE TREATED DECKING
Pressure-treated wood is one of the more common types of wood decking material used today and with good reason.
As one of the most affordable and versatile wood materials available, pressure treated wood is an attractive option. But it has more than just a good price point. It's also aesthetically pleasing. You can stain it to almost any color, making it easy to customize. On top of that, it's durable. It can be slightly more durable than cedar, making it ideal for a long-lasting deck.
In that pressure-treated wood is a cheaper material, it is important to invest in the best pressure-treated wood available. Cheap pressure-treated wood is known to warp and twist. Good quality wood is far more durable. In fact, we build many decks that have pressure-treated wood within their support systems. Another benefit of pressure treated wood is that it can be stained and sealed to make it even more water and bug resistant.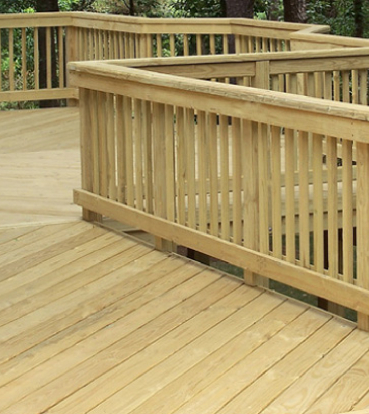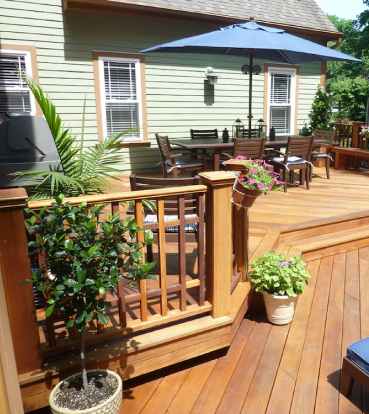 MAHOGANY DECKING
At Westchester Decking, we are frequently asked what we think is the best decking material for the Westchester County area. The first type of wood that comes to mind is mahogany. A mahogany deck built by Westchester Decking is going to be well-made, durable and a lovely addition to the home it adorns.
Mahogany is known for its rich, dark red color. One of the surprising benefits of mahogany is its termite resistance. It is one of the few types of wood that termites just don't enjoy. It's also resistant to rot and mold, so it's unlikely to decay or experience damage in a tough winter.
According to the Yale School of Forestry & Environmental Studies, mahogany is one of the most highly valued species of wood because of its quality and color. It is a furniture-quality hardwood. It has virtually no knots and is far less likely to splinter, split or warp than other decking materials.
CEDAR
This popular decking material has a hard-won reputation for durability and beauty. Not many decking materials can compare to the natural warmth and charm of genuine cedar.
If the natural look of wood is on the top on your list, for most Westchester County homes, a cedar deck is the best option. We use the heartwood of the tree (the deep-colored red part, not the white sap part). The heartwood of the cedar tree is rot resistant, bug resistant and doesn't readily absorb moisture. Since moisture is what creates twisting and splitting, cedar decking tends to lie flat and straight.
Cedar wood has a classic look that makes it ideal for many Westchester County homes and yards. When working with cedar, homeowners can stick with the natural color or stain it to to bring its appearance in line with other outdoor environmental elements. And don't forget the lovely smell of a cedar deck–a nice bonus.